Regular price
$67.98 USD
Sale price
$33.95 USD
Unit price
per
Sale
Sold out
UPDATE: Due to increased social media attention, inventory is limited.

Treat Your Back Pain and Poor Posture with just 10 minutes a day!
Daily activities, sitting all day, extended computer usage, or physical activities can lead to spine and posture imbalances. Say goodbye to back pain and poor posture, and discover the ultimate back pain relief tool, with SpineBoard.
HOW DOES IT WORK?
When laying down on the back stretcher, gravity allows the front of your body to effortlessly stretch out and upwards, and the surrounding muscles start to relax, promoting pain relief in vertebral discs, spinal wellness, and reduced tension in the back muscles. You'll be amazed by how good you feel after just one use!
TRY IT RISK-FREE for 30 DAYS! (no questions asked)
How does the SpineBoard 2.0 compare?
RELAXATION AND RELIEF - Professionally tested, the SpineBoard is able to help relieve muscle tension, allowing your back to loosen up and relax! Simple to use, portable for easy travel.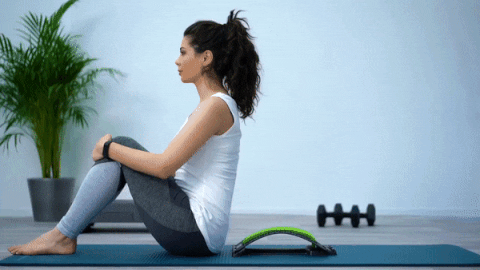 EFFECTIVE ACUPRESSURE MASSAGE - Has 88 plastic pins that bring acupuncture effect by deeply pressing the specific acupoints. This help activate the natural healing response and improve the posture to give you complete back relaxation and relief.
STURDY MATERIAL - Can withstand weight up to 200kg/450lbs and won't get out of shape even if folded. If it breaks, we'll send you a new one, for FREE!
ADJUSTABLE STRETCH LEVEL - SpineBoard has 3 slots for height adjustment, designed for people of all ages. The higher the back stretcher lifts, the stronger stretch you will get.
ERGONOMIC DESIGN - Based on the ergonomics concept, the contour of the lumbar traction device is in the standard body curve to provide an efficient acupressure massage. The foam pad in the center of this lumbar back stretcher gives cushioning to ensure your spine feels comfortable.
MULTI-PURPOSE - The lumbar alignment stretcher can be used whenever you are lying or sitting. The back relaxation device can be placed on a chair to help correct your sitting posture, or a car seat to serve as lumbar support for the car that helps reduce tiredness, especially for long-time road drives.   
Shipping

We offer Free worldwide shipping on All Orders !
Delivery time can take up to 7 - 15 business days.
Our Guarantee

We truly believe that we offer some of the world's most innovative products, which is why every order is protected by our 100% Money Back Guarantee. Shop risk-free today! Love it or your money back. Ordering products online should be worry-free. We will do everything we can to make sure you 100% Satisfied with your purchase.
We have friendly customer service team ready to serve you. Please feel free to contact us with any questions or if you need assistance!
View full details
I got it and I use it when my lower back hurts. It helps me stretch. Give it time to get used to it. Really helped me n my daughter. Im glad I purchased it. It works and helps with posture some how.
Thank you!
Can not believe how this simple thing removed my chronic back pain in 5 days. Simple but super effective! Would recommend anyone who is having back pain or posture issues.
With a sciatica problem, I've found stretching to really help 👍 5 minutes on the spinedeck followed by 8 minutes of hyperbolicstretching 💥
Just WOW
OH my gosh, LOVE Spine Board. I ordered a Spine Board weeks ago and have been having back issues but too busy to just stop for a moment. I was in pain this morning so I thought, "well silly you have it, see if it really works..." well I can say that after laying on Spine Board for about 5 minutes and yes it was a bit uncomfortable but I FELT two little twinge pops. Those two pops were vertebra sliding back into place. I now have 0 pain and actually felt my legs, feet, arms and brain getting more blood and relaxing. WOW Thanks so much for a sturdy product that IF used will work. Finally free of stiffness and pain!
Love IT
This is seriously the best thing i have done for my sciatic pain. I keep telling my friends how it cured my pain in days🙌
Relaxing
I bought one. It will definitely stretch your back out. Once you do it enough it will start to feel good and if you do it right before you go to bed you'll feel all sorts of relaxed. Just be sure to get up off of it very slowly so that your spine can go back into its natural position properly.
This is a great product I use it at home and work
5 stars
I purchased and came in a timely manner to Canada..happy with my spine deck
Recommend
I got it and it's feeling great so far.
Piece of plastic.. but works meh