Regular price
$159.98 USD
Sale price
$79.95 USD
Unit price
per
Sale
Sold out
Be prepared for any situation without a backpack full of heavy gear! 
As avid campers ourselves, we know just how hard it can be to find a balance between being prepared and being overpacked. This led us to create this one ultimate survival tool that is compact, lightweight and combines all the necessary tools, ensuring you're ready for anything.
This multifunctional

 survival tool

 

is A MUST-HAVE in your outdoor equipment!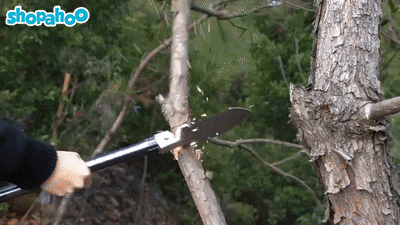 Sturdy & Durable
Hardened-steel, reinforced shovel head and the military grade aluminum handle makes the shovel a heavy-duty tool that you can depend on in every situation.
Compact
Foldable and lightweight design makes the shovel convenient to carry and store, so you can keep it anywhere, from your car to your bug-out bag.
Versatile
Made to outperform and perfect for every outdoor adventure. SurviGear ultimate survival shovel combines all the necessary tools, ensuring you're ready for anything. 
Sturdy & Highly Durable
Lightweight
Folding & Compact
Multifunctional 25-in-1
What All Can I Do With The Ultimate Survival Tool?
Here's a list of the uses the survival shovel comes with and that'll help you survive in the wilderness:

Shoveling
Digging
Bracing
Cutting (logs, rope)
Prying
Hammering
Window breaking
Chipping
Fire starting
Loud emergency whistling
Chopping
Camera tripod
Wire clamping
Self-defense weapon
Axing
Hoeing (gardening)
Hooking
Hunting
Peeling
Chiseling
Sawing
Shearing
Entrenching
Bottle/can opening
And more...
Shipping

We offer Free worldwide shipping on All Orders !
Delivery time can take up to 7 - 15 business days.
Our Guarantee

We truly believe that we offer some of the world's most innovative products, which is why every order is protected by our 100% Money Back Guarantee. Shop risk-free today! Love it or your money back. Ordering products online should be worry-free. We will do everything we can to make sure you 100% Satisfied with your purchase.
We have friendly customer service team ready to serve you. Please feel free to contact us with any questions or if you need assistance!
View full details
Excellent product!!
The shovel is excellent. Really strong and sturdy. I am satisfied with the purchase.
Easy to operate
Love it! Purchased the shovel primarily for camping. Haven't taken out into the field yet, but have familiarized myself with it's features and operation. Build is strong, assembly and packing easy, longer than most camping shovels giving you more leverage. I look forward to putting it to good use in the near future.
Multifunctional bomb!!
I'm so stoked for this shovel. It is so compact and portable, it's great to throw in a glove compartment or in any camping bag for emergencies. I also love that it has the option for changing the head angle so that you can both shovel and dig at any angle needed. I would highly recommend this item for any camping or emergency enthusiasts, as well as anyone else who just likes to be prepared.
Great product
This is not some cheap gadget that claims to do all these things, but in reality breaks with any attempts or simply does not function as promised. This is the real deal--very sturdy, well-made, high class product. Strong material. I recently used it on a week long scout camping trip, and saved the day by having this on the trip. All the scouts were impressed, and the other 10 adults on the trip were wanting to know where they can purchase one! Great product!
Love it
This survival multi tool has far exceeded my expectations and has stood up to all I've throw at it. Great for camping or whenever zombies become a thing, an all in one quality multi tool.
Easy to work with
Solid shovel, and multi-tool!
Life saver!
This tool is seriously well made. I can wack it against trees and put all my weight into while digging. Having a tool this packable that can be screwed together in seconds to make a full length shovel is extremely useful to have while camping.